Rise and Shine (Raffi Songs to Read) (Board book)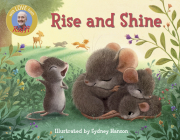 Description
---
Raffi's beloved song about waking up and seizing the day is available for the first time in a board book edition that readers will treasure.

All through the forest, animals are waking up and venturing out to find their friends and start their days. Raffi's song is a wonderful wake-up call that encourages kids to greet the world around them. Singing supports and encourages even the youngest child's speech and listening skills, which makes Rise and Shine perfect for early learning. With its delightful illustrations, this is the ideal sing-aloud for a whole new generation.
About the Author
---
Raffi Cavoukian was born in Cairo, Egypt, in 1948 to Armenian parents. Music and literature were very much a part of Raffi's own childhood, leading to his interest in learning the guitar as a teenager. In 1970 he began his career as a performer in local music spots and later transitioned to performing music for children. As his career progressed, Raffi realized there wasn't quality recorded music for children. He then recorded and released Singable Songs for the Very Young. After its success, he recognized his fun songs could be adapted into books to help children read. Favorite songs were then printed in booklets, which were illustrated by the children themselves or by older students—as a result, the children had instant books that they could use at their own level of proficiency. This led to the publication of Down by the Bay and Shake My Sillies Out, followed by other titles in the Songs to Read series. In 1998, Raffi published his first book for adults—an autobiography detailing the story of his unique life and career, including his efforts to blend respect for both children and the natural world, in order to work toward a child-honoring society.

Sydney Hanson is the New York Times bestselling illustrator of Why a Daughter Needs a Dad by Gregory Lane, and has also illustrated How Do You Take a Bath? and How Do You Go to Sleep? written by Kate McMullan, and Panda Pants, written by Jacqueline Davies. Sydney was raised in Minnesota alongside numerous pets, and her illustrations and paintings still reflect a love for animals and the natural world. In addition to her book illustrations, Sydney is an experienced 2-D and 3-D production artist who has worked for several animation companies, including Nickelodeon and Disney Interactive.