Drawing Words and Writing Pictures: Making Comics: Manga, Graphic Novels, and Beyond (Paperback)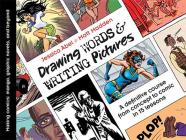 $45.99

Not On Our Shelves Now--Usually Ships in 1-5 Days
Description
---
"A gold mine of essential information for every aspiring comics artist. Highly recommended." --Scott McCloud

Drawing Words and Writing Pictures is a course on comic creation – for college classes or for independent study – that centers on storytelling and concludes with making a finished comic. With chapters on lettering, story structure, and panel layout, the fifteen lessons offered – each complete with homework, extra credit activities and supplementary reading suggestions – provide a solid introduction for people interested in making their own comics. Additional resources, lessons, and after-class help are available on the DW-WP website.
About the Author
---
Winner of both the Harvey and Lulu Awards for Best New Talent in 1997, Jessica Abel is the author of Soundtrack and Mirror, Window, two comic collections culled from her comic book series, Artbabe. Her La Perdida (Pantheon, 2006) won the Harvey Award for Best New Series and was excerpted in 2006's Best American Comics. She resides in Brooklyn, NY.

Matt Madden is a comics creator and teacher at New York's School of Visual Arts. He is the creator of the graphic novels Black Candy, Odds Off, and A Fine Mess, and of the comics theory book 99 Ways to Tell a Story. He is the co-editor (with Jessica Abel) of the Best American Comics series. He lives in Brooklyn, NY.
Praise For…
---
"Lively, sophisticated, and comprehensive, Abel and Madden's course in visual storytelling covers every narrative and graphic element, from drawing figures and character development to panel transitions, composition, lettering, depicting action, and penciling and inking techniques. Technically precise, zippy, and inspiring, this is an outstanding teaching book." —Donna Seaman, Booklist

"Smartly designed and easy to understand, Abel and Madden's text is an edifying course in creating comics ... A valuable resource for all interested in the field and a natural companion to Scott McCloud's quintessential texts Understanding Comics and Reinventing Comics. (appendices, index, bibliography) (Nonfiction. YA & adult)" —Kirkus Reviews

"Comics are increasingly appreciated as complex, sophisticated blends of illustration and text, and this volume is a timely, in-depth examination of the format. This exhaustively comprehensive guide to creating comics features fifteen individual lessons that take readers from concept to finished product ... Serious readers seeking information will be drawn by the witty, informal tone and casual narrative voice as much as the impeccably designed and accessible lessons." —BCCB

"The text, designed for classroom use by teachers or as an individual tutorial, comes with further reading suggestions, homework assignments, and extra credit projects at the end of each lesson ... This book is not designed to teach would-be artists how to draw but how to write and give dimension to drawings through penciling strategies, lettering techniques, and inking with pens or brushes. Students looking to create their own mini comics for publication will welcome the design pointers." —Laura Panter, VOYA