Where Have You Been, Little Cat? (Hardcover)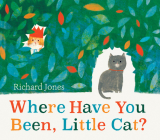 Description
---
An adorable, inquisitive tale which encourages readers to explore their emotions and free their imaginations as they are invited into a little cat's world

As a little cat rushes in from a day's adventuring, her owner asks her where she's been and what she's seen. Was she happy? Was she brave? Was she kind? The richly imagined answers—in Richard Jones's gorgeous illustrations, beautifully complementing his own simple text—will surprise, delight, and melt hearts.

About the Author
---
Richard Jones grew up in Leamington Spa before moving down to Devon study illustration at the University of Plymouth in Exeter and never went home again! After finishing his degree, he stayed on to complete a PhD. While working on his thesis, Richard got a "temporary" job in Exeter's Central Library and somehow found himself working there for more than ten years. When not at his desk, he enjoys bobbing about in the sea, swimming in rivers, walking in woods, listening to audiobooks on the bus, and stroking the cat. He now works full time as an author and illustrator. Follow him on Instagram @apaintedmouse and visit him on the web at PaintedMouse.com.

Praise For…
---
"A feline-focused look at the treasures of both new experiences and familiar places."—The Bulletin for the Center of Children's Books

"A frolicsome feline fantasy."—Kirkus Reviews