The Empath's Survival Guide: Life Strategies for Sensitive People (CD-Audio)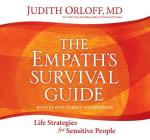 $29.95
Email or call for price.
Description
---
What Is the Difference Between Having Empathy and Being an Empath?

"Having empathy means our heart goes out to another person in joy or pain," says Dr. Judith Orloff. "But for empaths, it goes much further. We actually feel others' emotions, energy, and physical symptoms in our own bodies, without the usual defenses that most people have." The Empath's Survival Guide is an invaluable resource for empaths who want to develop coping skills in a high-stimulus world while embracing their gifts of intuition, compassion, creativity, and spiritual connection.

In this unabridged recording of The Empath's Survival Guide read by Pam Tierney, Dr. Orloff shares practical, empowering, and loving advice for supporting empaths through their unique challenges—and for loved ones to better understand an empath's needs and gifts. Here listeners will discover crucial practices, including:

• Exercises to identify where you are on the empathy spectrum
• Tools for protecting yourself from sensory overload, exhaustion, addictions, and compassion fatigue
• Effective strategies to stop absorbing stress and physical symptoms from others and protect yourself from narcissists and other energy vampires
• How to find the right work that feeds you
• How to navigate intimate relationships without feeling overwhelmed
• Guidance for parenting empathic children
• Awakening the empath's gift of intuition and deepening your spiritual connection to all living beings

For any sensitive person who's been told to "grow a thick skin," here is a guide for staying open while building resilience, exploring your singular gifts, and feeling welcomed by a world that desperately needs what you have to offer.
About the Author
---
Judith Orloff, MD, is a leading voice in the fields of medicine, psychiatry, empathy, and intuitive development. A member of the UCLA Psychiatric Clinical Staff, her bestselling books include The Empath's Survival Guide, Thriving as an Empath, Emotional Freedom, Positive Energy, Dr. Judith Orloff's Guide to Intuitive Healing, and Second Sight. She specializes in treating empaths and sensitive people in her private practice. Find more inspiration at Dr. Orloff's website, drjudithorloff.com.

Pam Tierney is a veteran of stage, film, television, and voiceover acting. However, her favorite medium is the audiobook. Pam's particular passion is nonfiction, as she loves learning new things and bringing to life the wonderful stories that make up the patchwork quilt of humanity.
Praise For…
---
"Judith Orloff, a psychiatrist from UCLA, advises physicians on improving their intuitive powers. Her simple but powerful message is 'Listen to your patients.'" —New England Journal of Medicine

"Have you ever been told that you need to grow a thicker skin? Do you suspect that your sensitivity is the source not only of your pain but also of your joy, plus your empathy, creativity, and spirituality besides? This is the book for you. Written with—what else?—tremendous empathy, The Empath's Survival Guide will help you to understand yourself and your gifts, and to forge a healthy path through this ever-coarsening but deeply beautiful world." —Susan Cain, New York Times bestselling author of Quiet and founder of Quiet Revolution

"Dr. Orloff combines neuroscience, intuition, and energy medicine to show you how to stay powerful and strong in the world, while also keeping your compassion and empathy alive." —Deepak Chopra, author of Super Genes

"The Empath's Survival Guide is wonderful, warm, and wise. Reading Judith's book is like having a very savvy sister who teaches you the insider skills of how to deal with this perplexing and amazing talent of extreme sensitivity. We all know someone who is extremely sensitive, and the world hits them hard. It could be you, your sister or brother, your spouse, a coworker, or a friend. This book is packed with practical hints for embracing sensitivity and turning it into a gift." —Lorin Roche, author of The Radiance Sutras

"Being an empath is the new normal—and what a perfect guidebook. Now people will know how to cope with being highly sensitive in their everyday lives. Fabulous and so timely. Everyone needs this book." —Caroline Myss, author of Anatomy of the Spirit and Sacred Contracts

"In this groundbreaking book, Dr. Judith Orloff provides us with a deep understanding of the empath's journey. Her professional knowledge, as well as her personal experience as an empath—combined with the practical tools for surviving in a sometimes challenging world—make her the leading expert in the field. This book will not only help you to cope with being a sensitive person, it will teach you how to tune your abilities and develop a coherent set of skills to master yourself. Dr. Orloff does a brilliant job in helping us discover the empath in all of us." —Dr. Joe Dispenza, New York Times bestselling author of You Are the Placebo: Making Your Mind Matter

"Dr. Orloff has done a great service to empaths everywhere with The Empath's Survival Guide. This information will help thousands of people protect themselves from psychic vampires, set healthy boundaries, and recognize their sensitivity as the gift it truly is." —Christiane Northrup, MD, author of the New York Times bestsellers Goddesses Never Age; Women's Bodies, Women's Wisdom; and The Wisdom of Menopause

"This book is essential reading for anyone who feels overwhelmed by our chaotic world and wants to master tools to become a more sensitive, whole, and powerful person. It's also for the loved ones of sensitive people who want to understand them better. It is easy to read, straight to the point, and offers practical ways for loving people to thrive and avoid compassion burnout. A physician and empath herself, Dr. Orloff shows you how to prevent sensory overload by setting healthy boundaries with many types of draining people, including narcissists. This book is a lifetime guide to return to again and again. Highly recommended!" —Joan Borysenko, PhD, author of New York Times bestseller Minding the Body, Mending the Mind

"The Empath's Survival Guide is a lifesaver for sensitive people and anyone who wants to become more empathic in their relationships without taking on your partner's stress. Highly recommended!" —John Gray, PhD, author of the international bestseller Men Are from Mars, Women Are from Venus

"Once in a while a book appears that could have described yet another pathology. Instead The Empath's Survival Guide by Judith Orloff humanizes a group of persons whose special traits and talents are normalized on the continuum of human experience and appreciated for their specialness. We recommend everyone read this book to broaden their view of human diversity and deepen their empathy for special talents and challenges." —Harville Hendrix, PhD, and Helen LaKelly Hunt, PhD, coauthors of the New York Times bestseller Getting the Love You Want, Imago Relationship Therapy, and Making Marriage Simple

"Anyone feeling too stressed or too sensitive to personal or planetary changes will love this new book. It provides tips, tools, and techniques for those of us often misunderstood by others. A masterpiece of love and understanding." —Joe Vitale, author of Zero Limits and The Attractor Factor

"Many individuals discover that opening to others through love, compassion, and empathy involves becoming vulnerable and often damaged psychologically and spiritually. Empaths, take heart! The solution is not to give up empathy, but to develop skills that avoid being damaged or blindsided in the process. Dr. Judith Orloff's The Empath's Survival Guide shows how. This book is seriously needed. It addresses an issue long ignored in healing, psychology, and medicine." —Larry Dossey, MD, author of One Mind: How Our Individual Mind Is Part of a Greater Consciousness and Why It Matters